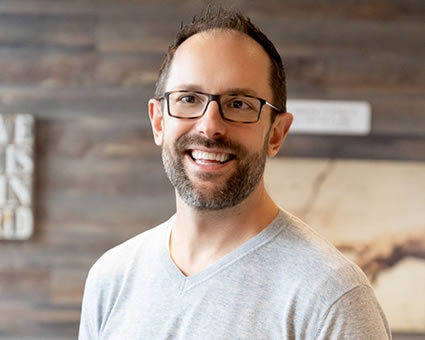 Meet Dr. Adam Brookes
From Grief to Hope and Healing
For Dr. Adam Brookes, the road to healing began with tragedy. When he was 18 years old, his father passed away. Dr. Brookes rediscovered hope as he chose to pursue a career in healthcare and prevent what happened to his family from happening to other people.
Dr. Brookes discovered chiropractic care after a football injury immobilized his neck. He tried heating pads and medications, but pain always came back. Finally, he visited a chiropractor, and after two adjustments Dr. Brookes had complete range of motion. The pain was gone, and he could play again.
Inspired by Natural Wellness
Excited to learn more, Dr. Brookes fell in love with the chiropractic lifestyle driven by a functioning nervous system, healthy nutrition, and exercise.
While completing his undergraduate degree in kinesiology at the University of Western Ontario with a concentration in athletic injuries, he served as the medical trainer for the varsity rugby team. Dr. Adam then went on to receive his doctorate degree from Canadian Memorial Chiropractic College in 2008 before completing postgraduate courses in Chiropractic BioPhysics.
Joining the Bolton Community
After graduating from CMCC, Dr. Brookes started Bruce Street Family Chiropractic in Kitchener, Ontario. The practice quickly became the number one rated clinic in the city. Dr. Brookes won numerous readers choice awards for best chiropractor and was Three Best Rated's top chiropractor 5 years in a row before joining Inside Out Family Chiropractic.
Dr. Adam and his wife knew they wanted to relocate to be closer to family after the birth of their third child. They then made the choice to move minutes away from grandparents, aunts, uncles and cousins for their little ones.
EXPLORE OUR SERVICES
A Lifestyle of Love
Dr. Brookes grew up playing rugby and high-level hockey and football. He still plays sports recreationally, but these days he's more focused on cheering for his kids as he drives his son to hockey and his daughter to competitive swimming.
He feels blessed to have a beautiful wife, Nicole and three amazing children, Abbey, Henry and Evalyn. Dr. Adam is so thankful to be able to say "I do what I love and I love what I do!"
Book Today
The expert team at Inside Out Family Chiropractic is here to care for your health needs. Schedule an appointment now.
---
Dr. Adam Brookes | (905) 951-9911